Year calendar of special events as we know them
*Experimental Working out kinks
For anyone new to this studio, this website link is a personal view of what two kids, who were not very sure of what they were starting, discovered about themselves with the help of Just 4 Kicks Studio and the Ninja Kids Program.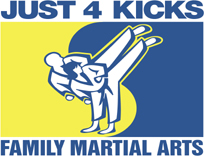 The Bulletin Board
(Web version)
Updated 08/03/2008

Next Testing
tba
Basics Strengthening Class
Saturdays
10:00am
Leadership Team Meeting 1st & 3rd Tuesday
Demo Team 2nd & 4th Tuesday
6:00 - 6:30pm
Ask about
"Ninja Parties"!
Please Check with Lost & Found!



The Just 4 Kicks Multimedia Page New
This will be the place for information that is generally on the bulletin board at the studio. We will endeavor to be accurate.
Please double check by calling if ever in doubt.


Just 4 Kicks Shared Photo Albums



Click Here

Anyone with pictures to share with others may use this photo storage area at Yahoo. Pictures from here may be printed or downloaded

but only if you don't mind others viewing your pictures!

Give your pictures on a disk to
Mike Pinner or Tracy Leonard or if you would like to upload them yourself we will provide the username and password.